Home
Welcome to Goddess Enchantments
We have proudly been here serving the Pagan, Wiccan and Spiritual community for 12 + years rolling beeswax candles, crafting soya candles, blending magickal oils, herbs grown by us, incenses and writing ritual. Everything found in our store is handmade by myself, a practicing witch with over 20 years of experience using our own families recipes and natural ingredients. Many of our magical items are made to order with the exception of those that need to sit, infuse, have energy added over time or require specific moon phases. We also work with a few specially selected local artists to bring handcrafted Statues and altar items.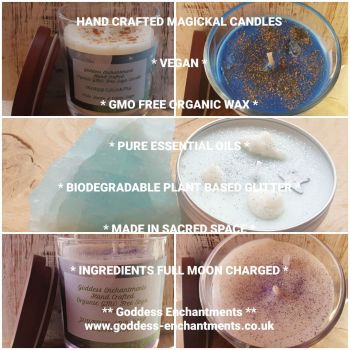 Today magickal tools have become a large market but this often means the production of items on mass or without the proper magical respect and energy raised while they are crafted. Goddess Enchantments was created to give the spiritual seeker another option to obtain the best items to support their path.
I also run monthly subscriptions boxes, online live classes and have a very interactive closed facebook group where you get special offers, lots of live videos an is where i hold my Crystal Treasure Events. Members also get to pre-order items like course and subscriptions which can sell out before making it to the site!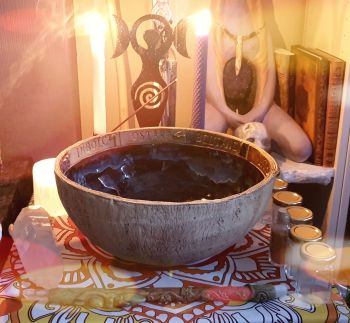 LATEST NEWS -
First course of the new year opens for enrollment in the facebook group 8th November
New Crystal's In Stock
Stunning Grid Boards In Stock
November Sub box SOLD OUT
Shadow Work Course Full
Our next Crystal Treasures event will be end of October, date will be released in group.
Crystal Wands Now In Stock
Smudge Fans Restocked
Smudge Sticks Restocked
New Jar candles....Healing and Journey!
Smudge on the go mini aura sprays now in stock!
Our guided Journeys are available here
Pop over and join our closed facebook group where there are special offers, posts about using tools & working ritual as well as videos not available elsewhere. Click HERE
We ship within the UK and internationally to the EU, Europe, Canada, Australia and US. If you do not see yourself listed at checkout please email me for a postage quote as we do ship worldwide.
We have had many requests for working LARGE beeswax pillar candles for your altars, these are available here
Have you got your New and Full Moon pillar candles yet, each comes with its own spell and is beautifully handcrafted. Take a look HERE
You can find us on youtube Goddess Enchantments