Home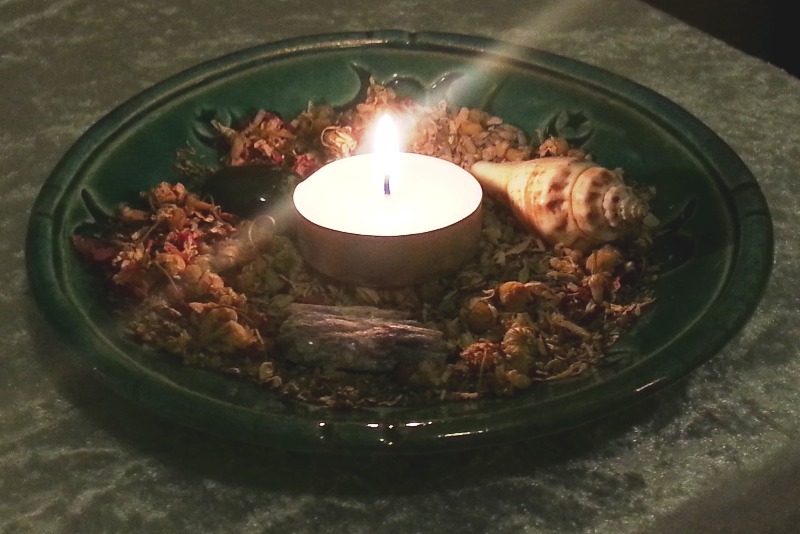 Welcome to Goddess Enchantments! We have proudly been here serving the Pagan community for 11 years rolling beeswax candles, crafting soya candles, blending magickal oils and incenses and writing ritual. Everything found in our store in handmade by myself, a practicing witch with 20 years of experience using our own families recipes and natural ingredients. Many of our magical items are made to order with the exception of those that need to sit, infuse, had energy added over time or require specific moon phases.
You will only find beautiful beeswax candles in our store, no nasty chemicals here, and natural essential oils used throughout our ranges. Herbs are either grown and dried by ourselves or sourced locally and all items containing spells or for ritual are crafted in sacred space so you know time and the right energy has gone into each item leaving our store. Our soya wax is organic and non gmo and everything is handmade by myself.
Today spell craft items have become a large market but this often means the production of items on mass or without the proper magical respect and energy raised while they are produced. Goddess Enchantments was created to give the practioner another option to obtain the best items to support their path.
Being a small business we have the time to spend on our customs and will quite happily make custom items by request or write up a spell specially for you!!

We are also here to help you on your path so should you have a witchy question email any time :-) Check out our Book Of Shadows section of the website to learn everything from how to use scent in ritual to making moon water!!
LATEST NEWS - JUNE 2018
July Ritual Of The Month, Guided Journey Club and Holistic Witch are now available here
You can also back purchase our other guided journeys in the shop
Pop over and join our closed facebook group where there are special offers, posts about using tools & working ritual as well as videos not available elsewhere. Click HERE
New Tarot and Tools listing ~ Have a 4 card tarot reading then receive a complete set of magickal tools in line with the energies, challenges or intentions that come up within your tarot reading.
Have you got your New and Full Moon pillar candles yet, each comes with its own spell and is beautifully handcrafted. Take a look HERE
Facebook Messenger readings now available!
By popular request i now offer Youtube Tarot readings where you reading will be recorded on video and listed so its invisible to all except you who will be given the link.
I offer my limited edition items on my facebook page HERE first and its only if they don't sell out on pre-order you will find them then listed here. Be sure not to miss them by liking and clicking follow on my page :-)
You now have the option to buy our hand crafted natural beeswax candles and have them dressed for you with our beautifully blended oils.
Our Room Sprays now have an option to have them made with either Rose or Orange Blossom water in place of the spring water to give them a beautiful fragrance.
Our website is now MOBILE Friendly so you can shop and use our Book Of Shadows from your mobile phone and tablets comfortably!!
I ship within the UK and Internationally, postage for UK, EU and US is worked out at checkout by weight. If you are from outside these area please email me for a postage quote.
You can find us on youtube Goddess Enchantments